radiosport Listen-Only Headsets
Headsets with quality and features to last a lifetime.
radiosport headsets are built around our experience of more than half a century of amateur radio operation coupled with the experience of more than 2 million users of headsets for aircraft, industrial, public safety, motorsports, and tactical radio systems.
Since 1992 more than 2 million headsets have been delivered to those markets and their feedback has provided continual improvement in all of our products. We never stop learning and the products continue improving based on user feedback.
Developed specifically for Amateur Radio
We developed the radiosport line for amateur radio because there have been no professional quality headsets available to the amateur radio community. These days who can afford cheap consumer electronics that needs repeated repair or replacement?
Why Listen-Only Headsets?
These headsets are ideal for CW Ops or for Phone Ops that may normally use either a Desk Mic, or a Studio Style Desk-Boom-Mic. They work especially well for either CW or Voice whether it be for Contest, DX, ESSB or AM/FM operating.
These headsets feature 32 Ohm Drivers that closely match headphone volume with normal speaker volume.
Note - Our NEW Classic Radio Headset features series connected, in-phase 300 Ohm Drivers to match the 600 Ohm vintage receiver output impedance.
Frequency response of 200Hz to 6000Hz means weak signals aren't covered up by high frequency atmosphereic or audio amplifier noise, and the 200Hz low end cut-off provides superb rich voice articulation and excellent CW reception.
These phenominal drivers also have low drive power requirements yet exhibit expectional dynamic range.
There's nothing like these headphones. Find out what you've been missing!
We offer several different models with feature sets to match your operating style and/or conditions.
Click below for more details:
A unique headset that yields the rich sounds of your Vintage Receiver.

Our most popular headset by far that's ideal for modern receivers - post 1990.

Just like our RS20S with Dual Volume Controls, ideal for the hearing impaired.
See what others have to say about their radiosport headset
Click on the eHam.net logo below:

To Order Please Call: 1 805 504-3944

"Simply the best we can build..."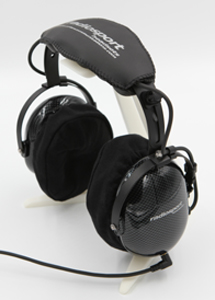 RS20CR Monaural 600 Ohm Vintage Radio Headset - 24 dB NR - Rugged Cable with 1/4" Monaural Plug.
Click here for details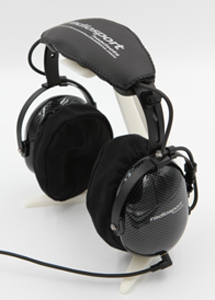 RS20S Over-The-Head Stereo CW Ops Headset - 24 dB NR - Integrated Cable with 3.5mm Stereo plug and 3.5mm to 1/4" Stereo adapter included.
Click here for details
RS21 Symetrix Over-The-Head, 24 dB NR, Stereo, Dual Volume Controls, excellent for the hearing impaired. Click here for details

Copyright 1996-2017, Arlan Communications.