SuperLight Travel headset for SmartPhone/Tablet/Notebook PC.
The perfect companions for travel running remote radio applications on Tablets, Notebook PCs and even your Smart Phone. Use it for phone calls, Skype or even mobile with our RS15SL Single Sided headset.
A new in-house design where everything has been done to make the RS55SL Stereo Boom-Mic headset as light as possible. This rugged new headset includes the finest internal components just like our legendary full size RS20S and RS60CF deluxe "dream edition" headsets.

While remaining as compact as possible, this Over-The-Ear design, with light-weight foam filled, leatherette finshed Ear Cushions will remain comfortable and cool. Inside the ear domes are our new 36mm metal frame, Mylar cone, Neodymium magnet headphone drivers, with construction and performance like the 50mm headphone drivers of our RS20S and RS60CF headsets.
Radio Jumpers available for your QRP, Portable/Mobile radios and Remote Radio devices from $89 to $124 each.
Click here for full details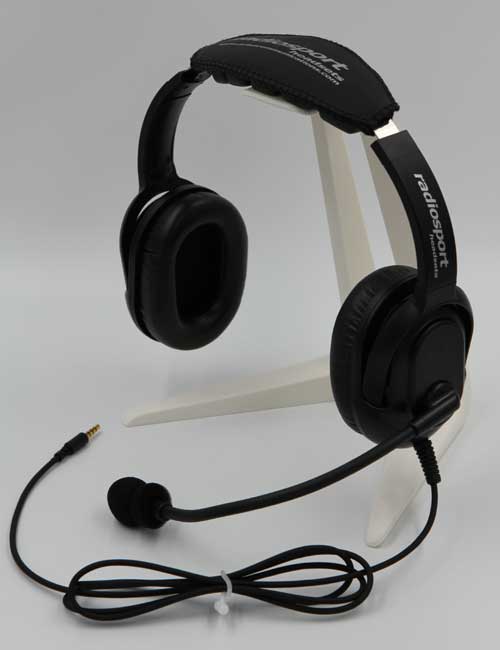 RS55SL radiosport SuperLight Stereo Boom-Mic headset $179
RS55SL Flex Boom-Mic Headset Features:
• Acoustic Noise Reduction
• Cool Foam Filled, Leatherette finished Ear Cushions
• Superb, 36mm, metal framed, Mylar cone, Neodymium magnet Headphone Drivers
• Now with Full-Range drivers for superb music quality audio
• Aviation Grade Noise-Cancelling Electret-Condenser Mic
• Scratch-Proof finish to stay great looking
• Includes Soft Pillow-Top Headband Cover
• Slide & Lock Head Band Height Adjusters built-in
• Light-weight 5 foot attached Cord with 3.5mm TRRS (CTIA) compatible plug**
• MIL-Spec Belden cabling*
• Optional handy radiosport logo Travel Bag available for $55

radiosport Logo Travel Bag $49 when ordered with your RS55SL headset.
To Order Please Call: 1 805 504-3944
10AM - 5PM Monday-Friday
10AM to 2PM Saturday - (Arizona - MST all year around
)
"Simply the best we can build..."
radiosport Headsets ship by USPS Priority Mail for fast delivery.
Domestic (USA) Shipping
US $23.63 insured shipped to all 50 states.
International Shipping
US $56.80 insured shipping to Canada.
US $82.85 insured shipping to Mexico.
US $83.75 insured shipping to all other approved international destinations.

Prices and specifications subject to change without notice.

Copyright 1996-2022, Arlan Communications.